Plugin Manager interface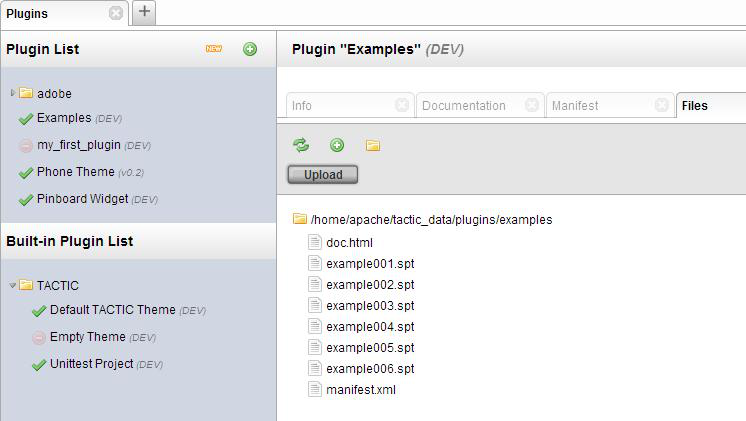 The plugin Manager View is where you will be managing all your plugins. From this view, you can create a plugin, fully install a plugin, and modify existing plugins. You can find all your installed plugins in the plugin list at the left hand side of the view. This shows all the plugins you have installed along with all the built-in plugins which have come with your TACTIC installation. After selecting a plugin, you have access to:
Plugin Info:
Name

Code: This is an important entity

Version: Imporant when you are planning to use or create multiple versions of a plugin

Description
Documentation:
shows all the documentation which has been provided for the plugin from the developer
Manifest file:
ability to export the manifest.xml

ability to publish the plugin (more information on this in the documentation on creating a plugin)

contains technical information about the plugin

can find more information about this in the documentation about creating a plugin
Files:
The files tab shows the raw folder structure and files of the plugin. From here, a number of file operations can be performed.
Adding files (Uploading)

Removing files

Creating folders

Renaming files